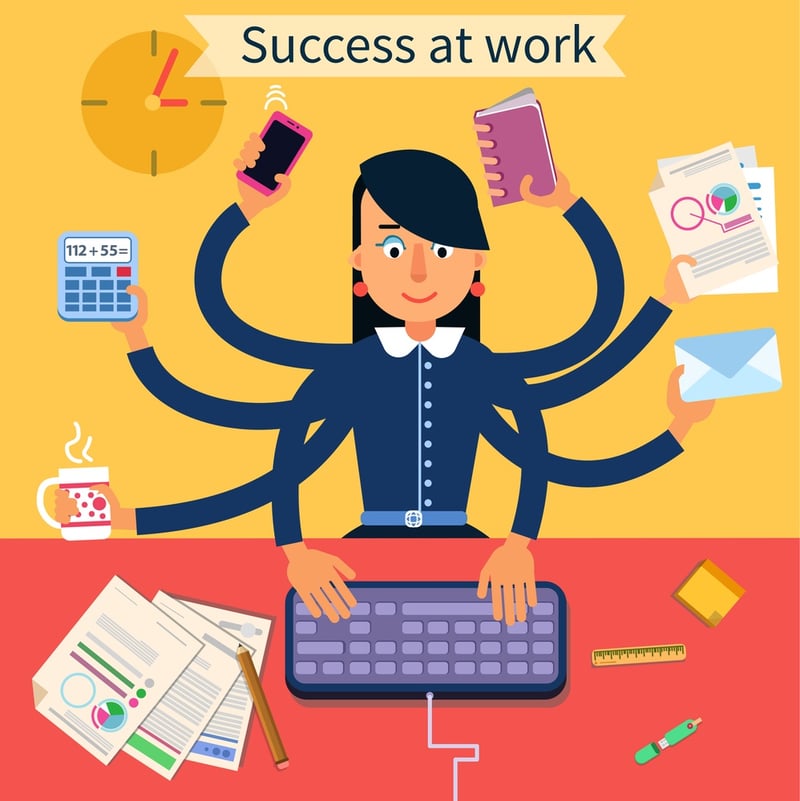 Have you ever been in a situation where circumstances changed, and all of a sudden you had a multitude of new responsibilities and didn't know how to handle it? This can happen to anyone in any setting - professional or personal - and I am for sure right smack in the middle of it professionally.
At the beginning of August, I was told I would be gaining much more responsibility at work. Not only would I be working directly with TIMC's president to run the marketing department, but I would have much, much more work that I had previously had throughout my time at TIMC. I am not ashamed to say I was a little nervous, but mostly excited.
Going from a one page job description to a four page job description is definitely intimidating. Here I will discuss how to handle new responsibilities and all the opportunities for learning that come with them.
Wrapping your head around it
First thing's first: Make sure you fully understand what the details of your new tasks are. Are you managing people? Are you responsible for things that will affect more people? Are you actually the one making decisions now?
Many people (including mine) inclination is to jump head first into everything. I cannot emphasize enough how important it is not to. You must fully understand what you are doing, what your days will look like, and make sure that you know how to tackle every task you now have. Jumping head first into the work without fully understanding what you are doing can lead to missed tasks, mistakes, and failures.
Multitasking is not your friend
The most important thing you can learn in this scenario is to take your time. Do not start everything at once. If you have a lot on your plate that needs to be done at the same time, prioritize it. Learn how to make a to-do list that will change day to day, with your important tasks ranked.
The second you start to try and do everything at once, you will loose track of one thing and make a mistake with another. Take your time on each task, don't speed up to get everything done. Work at a pace that you are comfortable with in order to execute what you are doing properly and without mistakes. Obviously, there will be more pressure to get more things done, but don't react to that by doing everything at once super fast.
Take your time, execute things properly and prioritize.
Find support from your team
The best thing about being at TIMC is that we really, truly are a team. If you are as lucky as I am to have people who surround you who are genuinely going to do what they can to help you succeed; take advantage of that. When I inherited these responsibilities, the first thing everyone did was offer to help.
It can sometimes be hard to ask for help, but you have to acknowledge that there are times when you will need it. Part of being a leader is knowing when these times are, and being ok with asking. Remember that everyone is aware of your situation and you will not be judged for reaching out. There is more harm in trying to do too many things at half capacity and overwhelming yourself than in offloading some of your tasks.
If there is one thing that I can emphasize in this process, one phrase to leave you with, it is: don't be afraid to fail. We learn more from our failures than we do from our successes, and you would not have been given these responsibilities if your team did not have the confidence that you would be able to succeed.
Personally I feel like there is not a better place that I could have been given the opportunity to show my strengths and to learn so many new things. TIMC has been incredibly supportive in this process. Everyone checks in on me every day, they all ask if there is anything they can help with, and they always make sure I have an ice cold beer in my hands on Friday afternoon.
Remember: learn from your new journey, and don't forget to sleep.
We are hiring! Join me in the Marketing department!